Frequency inverter manufacturers
Frequency inverter for Demand Limiting system
Demand Limiting is a common control strategy that reduces the utility bill by "limiting" the demand charges to a predefined level. Designated pieces of equipment is cycled off for relatively short periods of time to lessen the electrical demand.
Centrifugal loads in the
HVAC system
where frequency inverter are present can have the speed reduced instead of having the equipment cycled off. The strategy make use of the "cubed" law between speed and power consumption, while maintaining comfort.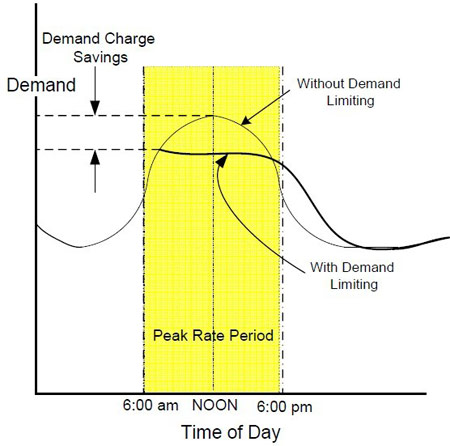 Utilities face shortages of generating capacity during high demand periods.. To encourage users to reduce energy consumption during these peak times, utilities charge a premium for electricity.
The
frequency inverter
demand limiting strategy is best implemented by a building automation control system that reduces the overall utility costs by controlling (reducing) the speed of the electrical equipment, or turning it off – typically for a 15 to 30 minute period – when the demand exceeds a predefined level. The predefined level is a level lower than the utility demand charge level.
Occupant comfort need not be sacrificed as overrides are implemented that allow equipment to resume normal operation, if space temperature exceeds the frequency inverter pre-set limits.
Control
The frequency inverter control system should be capable of monitoring real time energy consumption.
Building Automation System (BAS) Overrides should NOT be lower than the equipments' minimum speed.
Ideally the frequency inverters being controlled should be compatible and networked with the BAS. Actual energy usage, KW and power can be read directly from the frequency inverter without the added expense of interfaces.
Consider the frequency inverters for retrofit applications. The frequency inverters are Metasys N2 and LON ready.