Frequency inverter manufacturers

Harmonic trap filters
These are typically LC networks connected in parallel at the source of the harmonics (in other words, at the frequency inverter input). They are tuned to just below the 5th harmonic (typically 280 Hz) and will tend to sink both 5th and much of the 7th harmonic. Obviously, they must be sized to the harmonic-generating load.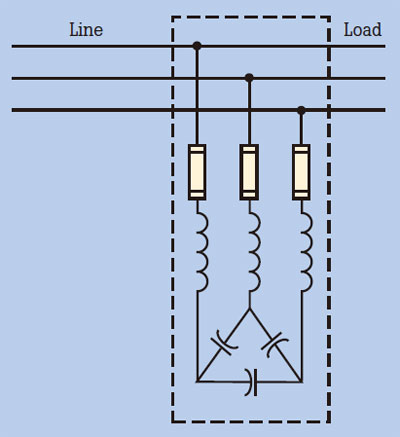 Phase-shift transformers
This can be as simple as a delta wye transformer feeding one frequency inverter(s) and a delta-delta feeding another frequency inverter(s). There is a 30 degree phase shift effect between these two configurations, which effectively results in cancellation of harmonics at the closest upstream PCC (Point of Common Coupling). The cancellation effect is optimal when both loads are more or less equal.


A bypass can be supplied in different forms: 2-contactor, 3-contactor and a wide range of input devises and control relay logic. See figure 1, for a simplified single line power diagram of the two different types of bypasses. In each case the purpose of the bypass is to operate the motor via a motor starter in case of a frequency converter failure. In the case of a 3-contactor bypass the frequency converter can also be isolated so that the frequency converter can be serviced while the motor is running in bypass mode. The motor starter, or bypass, includes a contactor, overload and some type of power supply, usually a control transformer, that powers the bypass operation and relay logic.


In most cases, OEMs and system integrators design and build multiple-motor industrial frequency converter systems to the tailored specifications of an end user. These systems are usually quite complex, involving many frequency converters which interface with other types of industrial control equipment. CE certifying such large systems for the EMC directive can obviously be arduous and extremely expensive.


Choosing the wrong type of frequency converter for an application can greatly affect productivity. An example of this would be using a volts-per-Hertz inverter where the accuracy and extended speed range of a flux vector frequency converter would allow more consistent results. Also, incorrectly sizing a frequency converter can cause nuisance tripping and unwanted shutdowns. Peak overload and the frequency converter's overload capacity should be taken into account.



One caveat: Installing frequency converters at the working parts of a machine exposes them to more abuse. To address this issue, many newer frequency converters include better environmental resistance and ratings — for hot, cold, dusty, damp, sterile, and wash-down environments.

We have also noticed a number of customers that were up-sold frequency converters with features that they did not need, which ultimately increased the purchase price of the frequency converter.

Frequency converter prices have dropped considerably over the past few years. As a result it is often less expensive to implement a frequency converter rather than a conventional starter and a flow control valve.
Many manufacturers are promoting frequency converters by offering an incentive. Incentives combined with the energy savings, often results in short pay back periods.



A conventional ground-fault relay detects ground-fault current at power line frequency (50/60 Hz) and above. Higher-end ground-fault relays filter high frequencies to prevent trips from harmonic noise. Some frequency inverter applications often operate from 120 Hz or more all the way down to 0 Hz (DC). Most ground-fault relays don't work at low output frequencies (below about 20 Hz) or DC. There are DC ground-fault relays, but most can't detect AC faults, so they can't be used with frequency inverters.
Modern converters are a marvel of technology and can often be a bit intimidating to those unfamiliar with power electronics. With this in mind, let's examine the factors that can contribute to incorrect performance of a frequency converter unit with the assumption that the frequency converter still turns the motor correctly.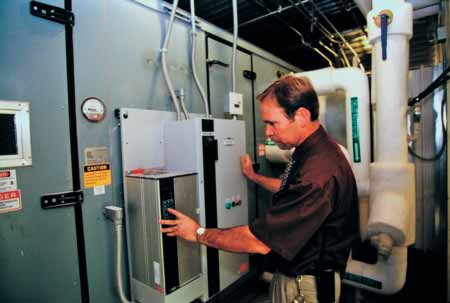 When troubleshooting frequency converters, start with a thorough visual inspection; clean any dirt, dust and corrosion from the frequency converter; check all wiring connections for tightness; check line voltages and current coming into the frequency converter; and check the frequency converter output for voltage and current.


If power is the primary concern, measure the power going into the frequency converter. This is considerably less expensive than measuring the variable frequency side. The frequency converter manufacturer should be able to give you an efficiency rating for the frequency converter. From this rating and the power reading, you can calculate the power output from the motor.