Frequency inverter manufacturers
Frequency inverter for Make Up Air Units
Make Up Air Units are used to bring in 'fresh" conditioned air into a space to "make-up" the air that is exhausted from a building. In the case of condominiums and other high rise residential buildings, exhausted air from washroom exhaust, cooking exhaust, natural building ventilation systems is replenished by the Make Up Air unit. Make Up Airs are usually designed for peak ventilation and occupancy periods are run at constant volume.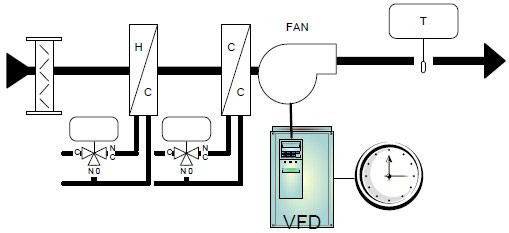 When frequency inverters are applied to Make Up Air fan systems, potential savings are realized by frequency inverter reducing the speed of the fan during low occupancy periods. The chart below shows the relationship between power and flow. These physical laws of fans show that a 50% reduction in flow requires only 12.5% of the available horsepower. For a 50 Hp , this means that only 6.26 Hp is required.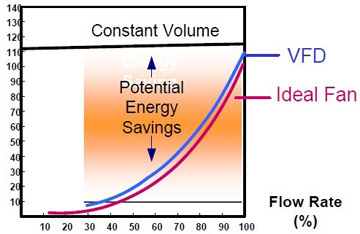 Additional energy is saved by the REDUCED amount of air that is required to be heated or cooled. Applying frequency inverters to Make Up Air systems together with a good overall control strategy can realize substantial energy savings with payback less than 2 years.
Control Application & Considerations
Scheduling the Make Up Air can be as simple has programming the
frequency inverter
to several preset speeds that reflect the different occupancy periods in a building. The preset speeds are activated by time clock contacts or DDC control. The DDC control provides additional benefits which include frequency inverter control, mechanical heating & cooling control with temperature setback.
For Make Up Air units with electric or modulating gas heat, minimum flow must be maintained to prevent frozen coils or overheated heat exchangers. Verify minimum flow with the equipment manufacturer.
Lower minimum flows may be realized for Make Up Air units with hydronic heating or cooling coils - increasing the energy savings.
ADDITIONAL FEATURES
Frequency inverters can be interlocked with time clocks or exhaust fan contacts to enable the programmed speed. For example, the frequency inverter may be programmed to run at 60% flow during weekdays from 2 to 4 PM and from 1:00am to 5:00am. And 100% flow at all other times.
Interlocking exhaust fans with the frequency inverter allows the frequency inverter to assume different speeds to match the number of exhaust fans that are turned on or off. (Volume Matching)
Indoor Air Quality (IAQ) sensors can be used to override and increase the speed of the the frequency inverter when the carbon dioxide (Co2) increases above the override IAQ setpoint (800 to 1200 ppm Co2).