Frequency inverter manufacturers


A final advantage, available to any frequency inverter application, is the Soft Start/Stop option. This option allows the pump and motor to be started at a lower frequency (say 30 HZ) and then "ramped" up to run speed over a period of a second or more. The result is a significant reduction in the starting current required by the motor. Some utilities require that motors over a certain HP undergo a soft start. With the frequency inverter, its just part of the package. In addition to a lower inrush current, mechanical stress on the motor and pump are also greatly reduced. In a normal "across the line" start, the motor rotor and pump rotating element go from motionless to the motor's rated RPM in about one second! And, soft start/stop virtually eliminates water hammer in almost any pumping system.

The downside of traditional flow control is that none directly affects the main power consumer. There are possibilities to decrease the power consumption of some of these components, but none are as effective in energy efficiency as using speed control with a frequency inverter. For example On/Off control will generate much mechanical stress and pressure peaks due to both the extra starts and stops and the current peaks into the electrical supply when the motor is started without the use of frequency inverter.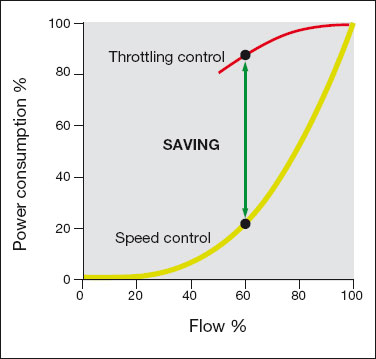 As previously demonstrated, the savings from using frequency inverters should be considered when evaluating costs and payback times. CentraLine fan and pump savings calculators can assist in estimating the savings created by investment in frequency inverters. The calculators use the most typical traditional control methods, such as damper and vane control for fans or valves and on/off control for pumps, as the basis of comparison. The Fig. shows the starting view of the CentraLine fan savings calculator.
Because the converters discontinue to blow oxygen periodically, they require fan to run in variable speed in whole refining period in order to meet requirements of energy saving and environmental protection. Original speed adjustment mode is hydraulic coupling. High speed 2700r/min, low speed 800r/min. there are following problems due to limitation of hydraulic coupling.
Adjustment range is 30%~90%, speed is unstable. Furthermore, low speed 800r/min is still high, which causes energy wasting. In high speed, there is slippage and smoke rising from converter mouth.
After 10 years of operation, hydraulic coupling is serious aging. It needs to change bearing frequently, which leads to stop converter. That can not meet requirement of continuous production.
Motor efficiency is low, particular in low speed.
Low adjustment precision, inferior linearity, slow response.
Big start current affects power grid stability.
Motor can not switch to direct on line when hydraulic coupling is broken. Machine must stop to repair.
Oil leakage pollutes environment seriously and corrupts floor heavily.


The frequency inverters have been running stably for several months in steel plant. They save lots of energy and heighten work ability of dusting fan, improve environment, heighten efficiency and make contribution for safety and environmental protection. So the frequency inverter is indispensable in dusting system and it is worthy to promote in the field.


It is worthwhile for HVAC engineers to understand some basic definitions and issues concerning frequency inverters before applying them on fans and pumps in their system design or in existing installations.

A frequency inverter is a device which consists of a frequency converter that can vary the frequency and voltage of the supply fed to the induction motor. The speed of the most commonly used industrial motor, the squirrel cage induction motor, can be varied by varying the frequency of the power supply. frequency inverters facilitate energy savings by variable speed operation, that will be discussed in greater detail later.


Frequency inverter connects between power source and motor. It is replacing other speed adjustment drives and entering into kinds of industries rapidly as its safety and reliability. Its main purpose is to reduce equipment speed. It heightens automatization level, meets requirement of production technologies as well as energy saving. Furthermore, frequency inverter reduces maintenance cost greatly and brings considerable economic benefits for company. Frequency inverter plays an important role in energy saving of motor system.


The successful application of frequency inverter in blast blower has enormous economic value for improving environment, heightening return and quality of coal gas. So it is worthy to expand and promote widely.


Frequency inverter application in purification system optimizes the system performance, improves purification effect, reduces power consumption greatly. According to related statistic, flue gas consumption reduces 19m3/t. Total power consumption reduces 137000kW.h per month.