Frequency inverter manufacturers
Home
»
Application
»
Convert Constant Speed Pump to Frequency Inverter Pump
Convert Constant Speed Pump to Frequency Inverter Pump
It is possible to convert constant flow systems to variable flow with the use of frequency inverters. Figure 1 & 2 show two piping arrangements of constant flow systems. In these constant flow systems, bypass valves control flow but at a constant pressure and speed - which does nothing to reduce energy at part load conditions. Graph 1 shows a typical curve for bypass valve flow control.
The basic steps to convert to a variable flow system by frequency inverter are:
Review the system's pumping charts and system curves. If possible develop/measure your own system curves. Be sure to review or measure the systems static head.
Review the type of valves. Three-way control valves may be converted to two way (see Figure 3). The existing 3 way valves – ideally should be equal percentage, and be able to control with the added pressure they will experience. If in doubt, 2-way valves may need to be installed.
Differential pressure sensor(s) need to be installed. The number and location of the sensor will depend on the piping system. These sensors would directly control the frequency inverters on the pumps.
Review to determine minimum flow requirements for the equipment (boiler & chillers). A new bypass arrangement may need to be installed to maintain the minimum flow requirements.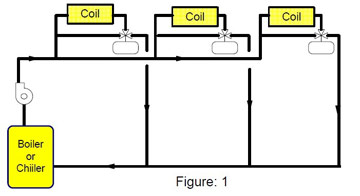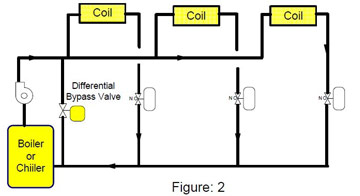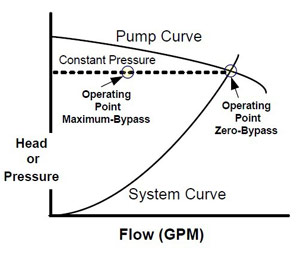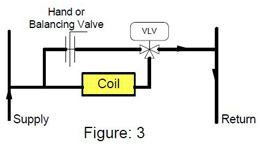 The Figure below shows a converted constant flow system to variable flow by frequency inverter. The valves are 3 - way converted to 2-way (if possible). A differential pressure sensor (DP) is located at the end of distribution system to ensure minimum flow. In more complex piping systems, it may be necessary to have more than one differential pressure sensor. The location of this sensor is important as it allows the
frequency inverter
controller to reduce the frequency inverter speed as flow is reduced. Placing it too close near the pump will lead to a reduction in the energy savings.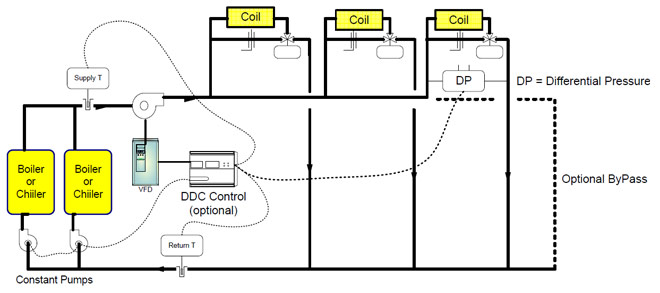 If it is located at the wrong spot (ie: at the pump), the tendency will be to have a higher setpoint at the frequency inverter controller to assure that there will be enough pressure at the farthest load during maximum load conditions. This higher than necessary setpoint can greatly reduce any potential energy savings.
The pressure sensor, in simple piping systems, may be directly connected to the frequency inverter's internal controller. The DDC controller in the diagram is shown as an option. The addition of an optional DDC controller allows for control and monitoring of the equipment.