Frequency inverter manufacturers
Home
»
Application
»
Frequency inverter for refrigeration system head pressure control
Frequency inverter for refrigeration system head pressure control
Head pressure control is used in many refrigeration system where the application requires the system to operate most of the winter season. Essentially, the head pressure control setpoint changes as the ambient (outside air conditions change).
Energy savings are realized if the condenser is allowed to operate at the lowest possible condensing temperature. The compressor does not need to work as hard and there are savings by employing a frequency inverter. Using accurate PID control increases the systems efficiency.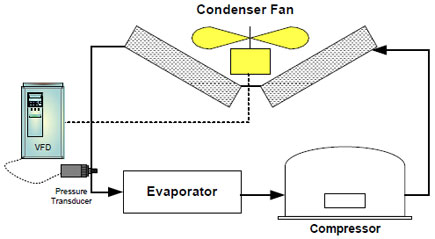 Another method to control head pressure is to allow the head pressure to "float" a fixed differential temperature above the ambient. The pressure is allowed to float based on the load.
Control Considerations
Pressure sensor is connected to the refrigeration system and wired directly to the frequency inverter with a built in PID controller. This reduces material and installation costs.
Consider where the frequency inverter is to be mounted. It may need to be housed in an outside air enclosure and need to operate in low ambient environment (-40 deg F)
The existing motor may need to be converted to 3 phase.
If the frequency inverter is to mounted a fair distance away, consider an output filter even though the motor is inverter rated.
For sleeve bearing motors, the frequency inverter may be programmed to operate the motor at full speed for a few seconds to provide adequate lubrication of the motor.