Frequency inverter manufacturers
Principle of Frequency inverter Current Tracking
The current tracking frequency inverter system contains five parts: the current waveform generation part, the PI regulator, the PWM part, the inverter and the motor, the first three belong to control part, and last two belong to power part, all of these form a current closed loop feedback system. The framework of the system is shown in Figure 1. In the diagram, PWM1 to PWM6 represents 6 PWM signals input to inverter part, U, V and W represent 3 output voltages of the three-phase bridge, M represents an induction machine. In the current waveform generation module, 3 sine waves are generated as the standard three phases by a 32-bit microcontroller, the phase difference between each two phases is 120
o
. i
w
and i
v
are the two output currents of the
frequency inverter
, which are measured by hall current sensors. The three currents satisfy that i
u
+ i
v
+ i
w
= 0, so the third phase current can be obtained by the formula: i
u
= -i
v
-i
w
. The proportional-integral regulator (PI regulator) uses the two feedback currents and the three standard sine signals to calculate a new duty cycle for each bridge.

Fig 1
. The Framework of Frequency inverter System
Give one of the phases U as an example. If the given standard sinusoidal current signal is i
u
, while the actual output current signal is i
u
. In each PWM cycle's interrupt, the actual signal is compared with the given signal, and the current deviation △i
u
is obtained. When △i
u
is passed through an anti-windup PI regulator, the inverter's duty cycle is changed, so as to adjust the output current. The current tracking diagram is shown in Figure 2. As seen from the figure, the higher the sampling frequency is, the closer the actual output current waveform to the standard sine wave, and also the higher the accuracy for the current control.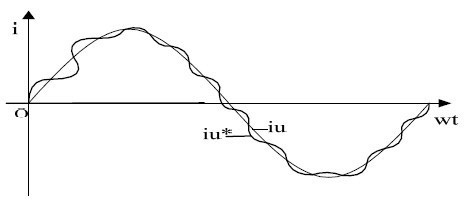 Fig 2
. Current Tracking Diagram
In practical applications, the motor will sometimes start quickly or decelerate rapidly, and then the traditional PI regulator's instantaneous output deviation is too large to saturation, resulting in a system shock, increasing of adjustment time and degradation of the performance of the PI controller. In order to eliminate the adverse impact of such integral saturation, the anti-windup PI regulator is introduced here, as shown in Equation: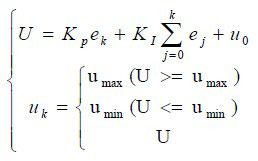 Where K
p
is the proportional coefficient, K
I
is the integral coefficient, e
k
is the deviation value of the k-th sampling time input, u
0
is the initial value when the PI controller starts working, u
k
is the output value of the k-th sampling time, u
max
is the maximum limit amount of control, u
min
is the minimum limit amount of control.