Frequency inverter manufacturers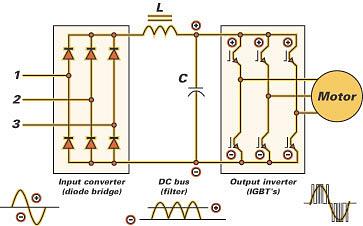 The rectifier circuit converts AC to DC and does so in much the same manner as those of a battery charger or arc welder. It uses a diode bridge to limit the travel of the AC sine wave to one direction only. The result is a fully rectified AC wave form that is interpreted by a DC circuit as a native DC wave form. Three phase frequency converters accept three separate AC input phases and convert them to a single DC output. Most three phase frequency converters can also accept single phase (230V or 460V) power but, since there are only two incoming legs, the frequency converters output (HP) must be derated because the DC current produced is reduced proportionally. On the other hand, true single phase frequency converters (those that control single phase motors) utilize a single phase input and produce a DC output that is proportional to the input.
o
. i
w
and i
v
are the two output currents of the frequency inverter, which are measured by hall current sensors. The three currents satisfy that i
u
+ i
v
+ i
w
= 0, so the third phase current can be obtained by the formula: i
u
= -i
v
-i
w
. The proportional-integral regulator (PI regulator) uses the two feedback currents and the three standard sine signals to calculate a new duty cycle for each bridge.